Get a Business Domain Name
Doing some online research about legal processes for domain name inheritance produced this funny Google "Did you mean" search result. "Do you mean: "domain name was killed". My response in my mind when I saw it was "No, the Domain Name OWNER was killed, and his domain was WILLED to his family, but because there's no protocol, the Domain Name did EXPIRE and the Business on that domain died!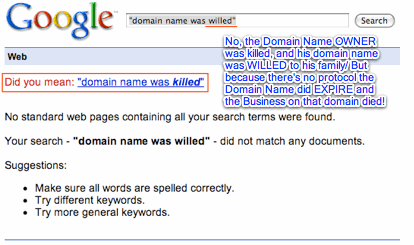 Funny enough, now this blog post will be the only result for that search within a couple of days.
Get a Business Domain Name