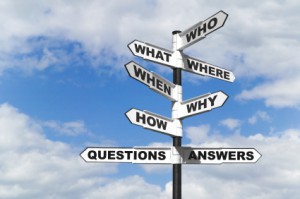 It's quite easy to label yourself as a "small business owner". But the challenges that lie ahead, if not fulfilled, can quickly close your business doors. More than 80% of all consumers will go straight online (rather than utilizing the print media) to gather information and make a purchase decision. That is why it's vital to arm yourself with a fail-proof internet marketing plan.
Given below are ten questions that you should answer (and fine-tune those action steps) so that you are always ahead of the competition.
1. Do I have an instinctive desire to succeed?
Yes, it's traits like these that separate successful entrepreneurs from failures. If you plan to elevate your small business to new heights, you must always have a rock-solid determination. If you are not self-motivated and brave, even creative ideas won't deliver results. So, be ready to persist until you succeed.
2. Am I ready to spend some money?
Apart from investing a good amount of time, you should also be willing to spend some money. Usually, most of the small businesses are reluctant to part with their money. Since the competition in online marketing gets only fiercer with time, choosing the cheapest options won't bring results. If you don't have adequate working capital, seeking out investors is not a bad idea.
3. Does my website look professional?
A website represents your business on the web. Don't hesitate to get feedback (from your family, friends, and colleagues) on how your website appears. If it doesn't look professional, hire a pro to get the job done. Whether it is about readability, accessibility or usability, you should make sure your small business website makes a good first impression to your customers.
4. Do I have a blog (attached to my business website)?
Attaching a blog to your website can help you get past the competition pretty quickly. With powerful CMSs like WordPress, you can get a self-hosted blog up and running within minutes. However, it is important to keep it fresh and post content that is informative, educational and entertaining to your target audience.
5. What are my competitors doing?
Competitive intelligence holds the key to your success in internet marketing. By researching what your competitors are doing, you can quickly locate those "missing links" or "gaps" and use them in your favor.
6. Do I have a written business plan?
This is where most of the small businesses make a mistake. They don't have their business plan in written form. You can't keep all those business goals and objectives in the mind. When you have them written, you can see your goals very clearly, remember them always, and make it easy for yourself to track progress.
7. Am I ready to learn and adapt?
Online marketing trends continue to alter directions. Unless you constantly keep your finger on the pulse of innovation, you won't be able to modify your business strategy for continued growth. Always be ready to embrace new technologies to gain a competitive edge over others.
8. Am I Targeting the Right Keywords?
Targeting the right kind of keywords is a surefire way of making your site more visible in search engines, attracting quality traffic and increasing conversions. Most of the small businesses target either too generic keywords or terms that are extremely specific or specialized. Both of these approaches fail to make a cut. If you don't have the expertise to do it yourself, it's advisable to hire a professional SEO developer or agency.
9. Is social media well-integrated into my marketing plan?
More than 65% of all small business owners in the United States already have social media integrated into their marketing plan. When it comes to winning in the online battlefield, ignoring social media is a deadly mistake. Identify who your ideal customers are. And use the right kind of social media tools to immediately connect with your audience and achieve your business goals.
10. Do I have the tools I need to measure success?
You can't successfully run a small business, unless you are ready to calculate the ROI on every decision that you make to grow. Focusing on the right metrics is also vital to measure the ROI appropriately. There are different tools to measure different ROIs. Choose them carefully.
Gerald Weber is a professional SEO from Houston, Texas that specializes in Google Places optimization. He is also a team member at the popular guest blogging platform MyBlogGuest.com and co-founder of MySEOCommunity.com (which is a global search and social community)