You probably woke up today wondering what the first domain name was and how long ago was it registered? Because there are a few people who pay attention to historical stuff like that, and because I saw a random email today that attracted my attention – I can tell you that today (March 15th, 2013) is the 28th birthday of that historic domain name.
Symbolics.com was the first domain name ever registered by Symbolics Computer Company on March 15, 1985
Domain was Sold in 2009 to it's Second Owner and is now owned by an venture capital firm – read more here.
In 1985 – nobody knew what the internet was except Tim Berners Lee, who dreamt up the idea and worked on it as a "side project" – and he posted the first web page in 1989. Here's a Ted Video where he talks a bit about that in a humble way and makes a bid for the next advancement he has been proposing (video from 2009)
So it's a bit odd that 4 years prior to Time Berners Lee posting the first web page, that Symbolics was able to purchase that domain name. I'd love to hear the backstory on that – feel free to register here and comment if you can fill in the details.
Here is the history of the internet from that first web page in 1989 to 1992 when there were only 50 servers online.
Here's a graph showing growth of Hostnames from 1989 to 2018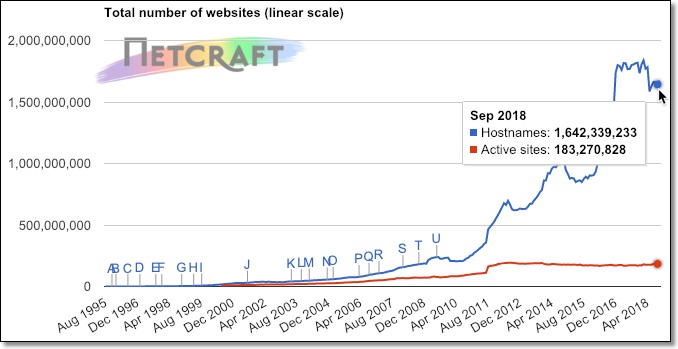 Get a Business Domain Name Compare Our Prices