Get a Business Domain Name for only $9.99 Compare Our Prices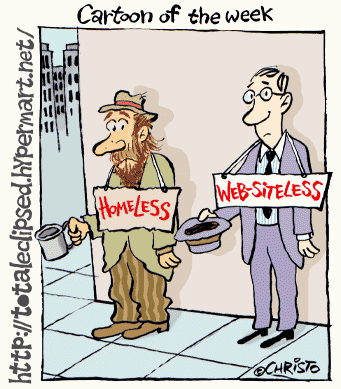 Without a web site address to call home, a business is homeless. It's seen by customers as the equivalent of working with a computer in the dusty corner of the garage near the clothes dryer lint trap. Many small business owners start this way, working out of a P.O. Box and sharing the family phone line with a teenage daughter who believes that talking to her BFF is far more important than business calls on that phone line.
Face it, it's time to buy that $9.99 domain name and start down the road to business legitimacy. Just as we have gone from "Do you have a fax machine?" to "What is your fax number?", so too are we moving rapidly away from "Do you have a web site?" toward "What is your web address?". How is it that we accept the need for the fax machine, the copy machine, the phone and the computer, but not a web site?
Every business is expected to be online, just as they are expected to have a telephone and a fax and an answering machine. Size will always determine resource allocation. Hire a professional if you can, but get online now!
The first step to getting your business Online is to get a domain name, which is typically your business name or generic word or phrase and includes the famous dot com, dot net, and .org extensions. Here's a complete tutorial on Domain Names to help you learn everything about choosing a name for your web site and how domain names work to help you navigate the web.
Or, you could just research a domain name now, buy it today and grow your business.
Get a Business Domain Name for only $9.99 Compare Our Prices