Have you ever really wanted to have a web site designed ? Your main problem though is that you don't feel you have enough cash or time to invest. You have two options
* Learn to create your own web site
Or
* Hire someone else to do it for you.
So let's assume you want to design your own web site. Why should you ?
"Building An Effective Web Site – The Key To Your Success"
By Stephen Fasenfeld
Because you will initially be testing many different ideas on your web pages and changing your site quite frequently, it naturally makes sense to learn web design yourself. That way, you will NEVER have to deal with the following problems:
*If you cannot make the changes yourself, then you cannot expect the changes to be made on time. You will be forced to wait until your webmaster has a spare moment to make the changes for you.
*You cannot expect the changes to turn out the way you pictured because the programmer may have a different understanding of what you are trying to accomplish.
*You cannot make the quantity of changes you will need to. In the beginning, you will want to do a lot of testing and tweaking with your web site. If you have to ask your webmaster to make these changes each time, then you will not be able to master as many adjustments as you would probably like.
*It's really expensive otherwise! These changes will cost you an arm and a leg… and all for the work that you could have done yourself for FREE
Outsourcing the design of a web site is all well and good but you would want to have deep pockets. For the small business owner with limited resources it is like flushing money down a toilet.
To emphasize this point, here is a typical email that I receive on a daily basis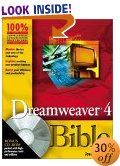 Dear Stephen:
I have a web site online and have had a webmaster (she uses Dreamweaver) working on it for months. The cost of putting this site together has been in excess of $1500.00. Now that it's almost done, the webmaster is unavailable most of the time or just ignores my requests for corrections, and the final 'touch-ups and tune-ups'. Some of my products are not even linked to my site
At any rate, that is my dilemma at the moment. I would love to learn to use Dreamweaver as I intend to start another business in Canada, totally unrelated to the one I have online now and would like to develop my own site as well as maintain and change the web site I have now.
Sincerely,
Sonnie Barber
Clean Earth Technologies
https://www.cleanearth.nu
Here is what I said to Sonnie in reply
Hi Sonnie,
I can understand your frustrations at the webmaster, prices, not being available etc, it is something I frequently hear unfortunately. If you really want to be in control of your own destiny I highly recommend that you design your own web site yourself. You will have no one to answer to and all the designs and changes that you want to make can be done at the drop of a hat 🙂
Better still, contrary to what web designers tell you, designing a web site is not rocket science. Anybody can design their own web site in days with the right tuition. You already know first hand how much people get charged. Even if you were to go on these two day cramming course that claim they can teach you everything you need to know about web design, don't believe them. You get no help afterwards if you have a question and your brain just goes fuzzy with information overload 🙂
If there is anything else I can do to help please let me know.
Kind Regards
Stephen
======================================
In general, it's in your interest to design and control your web site. Picture the scenario, you want to make some changes to your web site. What do you have to do, you have to phone up your webmaster and ask him to make the changes. Depending on whether he or she is busy with other clients the changes may come today or tomorrow.
Surprising as this may sound, the Internet changes so fast that tomorrow may be too late. You need to be in control here and now. If I was to consider the amount of changes I make on a daily basis, there would be too many to remember.I would also drive my webmaster crazy as I make changes so frequently. It doesn't even bear thinking about how much poorer I would be.
A good rule of thumb is when it comes to managing your web site, it makes good business sense to have control yourself.
If the thought scares you of designing web sites, you need no longer be afraid. Some of the least aesthetically pleasing web sites are some of the most successful when it comes to earning money. If at all possible you should have a site that is pleasing to the eye. You don't need the most technologically advanced, most beautiful and most expensive web site in the world. What you do need however is a web site that portrays you as a professional and established business.
Learning how to design a web site is not rocket science contrary to popular belief. There are a vast quantity of resources to teach you everything you need to know. Beware though of getting lost in the maze of resources, you could find yourself spending countless hours surfing the web, getting disheartened in the process.
Basically what it boils down to is that you will have control over your website. This means that you can control everything from your end and will no longer have to rely on others.You will also have more money in your pocket. This is definitely a win-win situation for yourself.
See how Stephen Fasenfeld designs a web site from the ground up right before your very eyes watching audio and video tutorials. In less than 10 minutes you can see the same secrets he has used to show over 6,800 people in the last 6 months how to design their own web site. Check out ==>
https://www.121dreamweavertutorial.com/