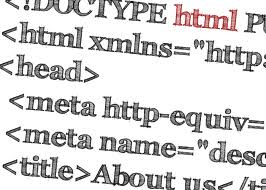 A great majority of small business owners hire web masters to edit and maintain their business websites. As they do not have any knowledge of HTML, they cannot edit their websites themselves. It is evident that every business website needs frequent editing and updating. If a small business owner does not have the basic HTML knowledge, he needs to call his web designer even for the minor changes. This amounts to extra costs that could have been saved.
Maintaining websites is a long-term process, and therefore, it is always advisable to learn some basic HTML to tackle it on your own. If a small business owner learns HTML and CSS, he avails the following benefits:
• He can edit and maintain his website on his own.
• He does not have to call and be dependent on his web expert for every single tweak.
• He knows exactly the required time-frame and average price for the whole project.
• The chances of getting ripped off by the web experts are significantly mitigated.
What is HTML?
Before we move forward to know how to get started with HTML, it is a good idea to have a look at what HTML is.
"Hyper Text Markup Language or HTML is a language for describing web pages. It is not a programming language, but a markup language, which uses hundreds of tags and attributes to describe and define the layout of a webpage."
How to Get Started with HTML for Small Business Owners?
Learning HTML seems to be a daunting task, but in reality, it is much simpler than that. Within a couple of days' practice, you will see things starting to shape up. Following are some of the ways, by which small business owners can easily get started with HTML.
1. Online Tutorials:
Getting started with online tutorials is one of the great ways for small business owners to start learning HTML. You can, depending upon your schedule, can learn at your own pace. Online tutorials will help you to easily get started in the HTML world with some basic steps and guidance.
Some resources for online HTML tutorials are:
• w3schools.com/html/
• davesite.com/webstation/html/
• Writing HTML
2. Books:
Books have always proved to be the greatest source of knowledge and information. With the evolution of the internet, you can easily find hundreds of e-books related to learning HTML. Despite the fact that these books can be expensive, but they are always a worthy investment to make.
Following are some most popular and widely used web developing books:
• Learning Web Design 2nd Edition – Jennifer Niederst
• HTML Goodies – Joe Burns
• HTML for the World Wide Web – Elizabeth Castro.
3. Video Tutorials:
Video tutorials are always effective and efficient when you are learning something new. These video tutorials can be paused and rewound as per your needs. Moreover, you can watch them whenever you have the time.
Because of their practical guide nature, video tutorials prove to be one of the greatest sources for small business owners to learn HTML.
Following are some great resources to find free HTML video tutorials:
• easywebtutorials.com/html-tutorial/
• techpogo.com/2008/07/learn-html-free-video-tutorial.html
• youtube.com/
In order to get started with HTML, the above-mentioned resources are some of the most excellent and reliable ways. With only a little time spent, you will learn a completely new skill, which can be then used to save a lot of hassles, time and money for you.
Thanks to the team at Website Hotline for publishing this tutorial.