Innnovation in business is tricky stuff, often costing companies staggering amounts of money paid to branding consulting and massive advertising dollars spent to cement a brand in the minds of their target audience and beyond. There are hundreds of books, websites, movies and homonyms that turn to every sort of business muse to stimulate the perfect turn of phrase to identify creative business concepts. Now a new business book looks at case studies showcasing the transformative ideas used by McDonald"s, Dulux, Evian, Coca-Cola, Air France, Nokia and eBay in recent branding pushes by each of the companies.
THE CREATIVE BUSINESS IDEA BOOK from Euro RSCG Worldwide Explores the Vital Role of Creativity in Business Success, Drawing on Global Case Studies to Reveal the Thinking Behind the Biggest and Best Ideas
We are in an exciting age in business"one powered not just by new technologies but by ideas. In this new era, a single brilliant idea has the capacity to create industry giants and build entirely new categories. Google, Dyson, eBay, Apple, Facebook, and others offer ample evidence of the nearly limitless potential of creative thinking and continual invention.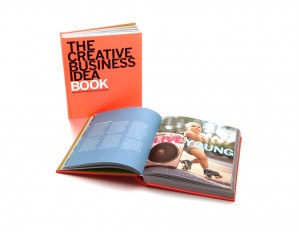 This summer, Euro RSCG Worldwide will celebrate the power and potential of ideas with the publication of THE CREATIVE BUSINESS IDEA BOOK: TEN YEARS OF BREAKTHROUGH THINKING. A decade ago, the communications company discarded the traditional ways of doing business and began building brands around what it would trademark as Creative Business Ideas"??ideas so powerful they can transform businesses, build categories, and alter consumer perceptions, over time or sometimes even overnight. THE CREATIVE BUSINESS IDEA BOOK shows the impact of creative strategy on companies around the world and aims to inspire a new generation of talent.
"Over the past decade creativity has emerged as one of the most significant competitive advantages in business," said David Jones, Global CEO of Havas and Euro RSCG Worldwide. "Today you can no longer buy attention, you have to earn it. And in a world of more and more messages, shorter and shorter attention spans, and smaller screens, powerful creative ideas that cut through have never been so critically important. This book celebrates some of the best examples of brilliant creative thinking driving profitable growth"
Drawing on cases from around the globe, THE CREATIVE BUSINESS IDEA BOOK challenges marketers and business leaders in every category to rethink how business is done. Among the more than two dozen campaigns showcased in the book are:
McDonald"s: "Come as You Are"
Dulux: "Let"s Color"
Evian: "Live Young"
Coca-Cola: "Path to Purchase"
Air France: "Making the Sky the Best Place on Earth"
Nokia: "Nokia Game"
eBay: "You Are eBay"
The 29 cases are arranged according to five areas of focus: Unleashing Human Viruses, Reinvigorating Businesses and Brands, Thinking Bigger than the Business, Targeting the New Consumer, and Compelling Change.
In addition, the book contains insights and recollections from creative, account, and management executives across the company, as well as essays on relevant topics such as how to create an effective viral campaign, the new face of luxury, and what to expect from our digital future.
"Relevancy is vital today," said Mercedes Erra, executive president of Euro RSCG Worldwide. "The utility of brands is what people question most, and so engaging with consumers has to be linked with how brands help people in their daily lives. Creative Business Ideas are more than a tool; they"re a way of thinking that"s focused on understanding what drives people to get involved. To survive, brands have to adapt their DNA in order to meet people"s challenges, and, if necessary, they need to have the courage to change. Creative Business Ideas are media-neutral ideas that deliver powerful creative work. They have the power to transform a company, redefine its scope, and enlarge its perspective, from product to service."
Creative Business Ideas have been a driving factor in the success of Euro RSCG over the last decade. Since Creative Business Ideas became the agency"s mission"and promise to clients"Euro RSCG has been named Global Agency of the Year by Advertising Age and Agency Network of the Year by Campaign, and it has been ranked as the largest agency by number of global brands for five years running.
Naomi Troni, global chief marketing officer of Euro RSCG Worldwide, said: "Those of us who worked on the book were inspired by the breadth of thinking and the brilliance of the ideas in the showcased campaigns. The book is meant to celebrate and inspire, and we"re all looking forward to what the next decade of Creative Business Ideas will bring."
The Creative Business Idea Book: Ten Years of Breakthrough Thinking