I've been reluctant to recount my experiences from the original 9/11 for the past 20 years as we reach the anniversary of that day – only because it was so seared into memory and so dramatic in all it meant to our perceptions and beliefs. Basically, I had avoided that because it hurts to remember how we lost some innocence and a bit of freedom of travel.
Today I saw a post on Twitter complaining about people giving "sordid-where-were-you" recounts of what they were doing on September 11, 2001. My first thought was – "Why is that sordid?" – and it prompted me to go back and re-read my original account, written after being turned away from an airport when I was scheduled to fly from Oakland to San Diego that morning.
The photograph below is one I took when visiting New York about 7 years later for a job interview and stayed at the Millennium Hilton which overlooked the World Trade Center construction site. I awoke before sunrise to construction noise and saw the scene, looking toward the Hudson River. And, of course that reminded me of this story at the time and I reread it then as well.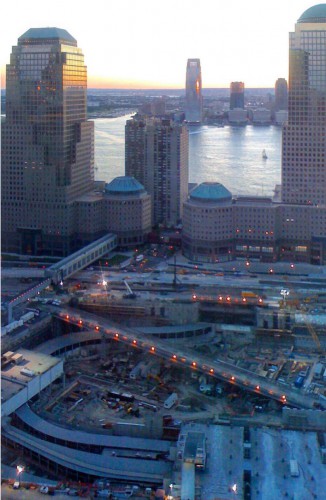 I found it interesting to relive it and hope you find it at least of passing interest on this day of reflection 20 years after 9/11/2001 – when I originally wrote:
I travel alot and have been on hundreds of airplanes and in dozens of airports. Recently a relative offered to go inside the airport with me to wait for my flight, I declined saying, "I've gotten very used to this, it's almost as routine as sitting in traffic at rush hour to me now."
That changed Tuesday as I stood, bleary eyed, in line for a cup of coffee at a concession stand in the Oakland Airport after just 3 hours of sleep and a two hour bus ride from my home in Northern California, waiting to catch a Southwest Airlines flight to San Diego for the CTIA Wireless I.T. and Internet 2001 show and conference at 6:30am California time. I'd gone over to the nearest coffee stand to buy a "wake-cup" of coffee a few minutes after I'd checked in for my flight.
I was quite annoyed at the clerk when instead of taking my money, she stood staring wide-eyed at a television mounted above and behind me in the concession area repeating, "Oh my God! Oh my God!" Finally I turned around to see that searing image of the second passenger jet ploughing into the second of the World Trade Center twin towers, re-broadcast from the Early Show in New York! It had happened about ten minutes ago and Bryant Gumbel was still trying to digest what had happened, saying that it must be purposeful terrorism.
None of us will ever forget that scene. Oddly, though still not fully aware of what I had seen, I still expected to board my scheduled flight and go to San Diego. The enormity of what I had seen had not sunken in to my tired mind yet. It's odd how we all expect to continue along with our plans when it should be obvious in retrospect that it would not happen. Every other passenger waiting for their flight in terminal 2 of the Oakland airport with me also stayed, expecting to board their own plane.
We all chattered to family, co-workers and clients by cell phone discussing the lurid pictures we'd seen on television moments ago. Nobody waiting in that terminal turned home until the planes that had already loaded began emptying of passengers and the flight attendants came off the planes to serve coffee to those waiting in the boarding area. It took me about 15 more minutes to realize that I might as well go home for the day. "I'll just go to San Diego tomorrow," I thought. Still not aware of the ramifications.
Denial is strong and comprehension slow when we've seen some- thing we can't understand. When I finally caught the bus home two hours later, minus my checked baggage, I realized it would never be routine again to travel by air to any destination. The bus driver turned on news radio at the request of passengers going back to hotels and homes 30 to 50 miles north of Oakland. New York is still 3000 or so miles away from here. I'd left home at 3:15am to catch the bus to the airport, returned home eight hours later.
When I arrived at the bus stop I found there were no connecting buses that could get me back home. My ride had gone to work. I sat down at the county airport bus stop and called a couple of numbers to find a ride home. Finally I learned that if I went back to the south a few blocks that I could transfer to another local bus going north the last few miles toward my home in Windsor.
A police officer approached me as I sat at the bus stop with my carry-on luggage and a briefcase. He asked if I were waiting for a ride. Now on a normal day, I would have scowled at him and snarled back, "Of Course!". But by now I had realized that this was not a normal day. I simply said, "Yes, I'm waiting for Sonoma County Transit bus." Then he asked for my I.D.
We're at a regional airport in Sonoma County California and the passenger terminal is closed and I'm the only person sitting in a covered bus stop. The passenger drop-off area is closed by traffic cones and he had been greeting anyone approaching by car to notify them the airport was closed. This was not a normal day.
I said, "Sure" and handed him my driver license. He asked, "Where were you traveling to?" Although I did a double take at the continued questioning, I realized he was only doing his job.
I said, "San Diego, from the Oakland airport. We never got off the ground. I took the bus back here and just arrived." He said, "Thank you sir. Have a good day," as he handed my driver license back to me.
The bus came and I rode to the necessary stop, crossed the road and walked a block to the stop going the other way at the bus driver's direction. The other bus came and I boarded, asking how near to my home street I could get. When he told me I would be getting off the bus at a shopping center that was twenty minutes walk from my house, I realized how tired my shoulders were from carrying my bag and briefcase already.
I walked a couple of blocks and into a business I frequent and asked to leave my bags there. They agreed and I walked home. In twenty minutes I returned with a car to pick up my bags from the business. The lobby was full of customers dazed by the mornings events, discussing how they'd heard of the shocking news. The business owner stopped when she saw me come in for my bags and said, ". . . And this poor guy was just at the airport trying to get on a plane."
On a normal day I would have been glad to tell my story to the group of patrons in that store. But it was not a normal day. I went home and turned on television news, still dazed.
It was not a normal day. —
Copyright © 2001 Mike Valentine