New York, NY (PRWEB) December 22, 2009 — With state unemployment at a record high and job prospects grim, more and more college students are thinking about starting their own business. "The state's Community Colleges and Centers are looking for new ways to generate innovative businesses that create jobs and face down the recession," says Mike Roessler, EWD's program director. "Bringing the Extreme Entrepreneurship Tour to our college campuses is an out-of-the-box strategy that taps a largely overlooked resource: the creativity and energy of our young people." The Tour helps students take the next step by offering inspiration and practical advice about how to start a business. Small businesses with fewer than 20 employees are responsible for 35% of all jobs in the nation's largest state.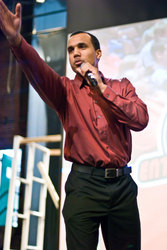 Tour Emcee, Arel Moodie, addressing the audience
The Extreme Entrepreneurship Tour is run by three award-winning young entrepreneurs – Sheena Lindahl (26), Michael Simmons (27), and Arel Moodie (25). Created in 2006 by Lindahl and Simmons, the tour features many of California's top young entrepreneurs who've made, earned or sold companies for millions of dollars and/or made a huge impact before the age of 30. One speaker, Cameron Johnson (24) from Los Angeles, started a dozen profitable businesses and became a self-made millionaire while he was still a teenager. Another speaker, Rahim Fazal (27) from San Francisco, sold his first business for $1.5 million as he was graduating from high school. Fazal is the co-founder and CEO of the venture-backed company, Involver.
"More than half the companies on the 2009 Fortune 500 list were launched during a recession or bear market," says Simmons. "Technology and globalization have made it very inexpensive to start a business. Now is the best time that there has ever been to become your own boss."
According to a 2007 Ewing Marion Kauffman Foundation survey by Harris Interactive, four out of 10 young people would like to start their own businesses someday. "However, when we talked with students, we realized that many of them needed inspiration and support to achieve this dream," says Lindahl. "That's why we started the tour."
The goal of the Extreme Entrepreneurship tour is to have college students around the nation graduate with an entrepreneurial mindset. In 2009, interest in starting a business rose 16% among 4,200 California students who attended tour events.
For the first time, students who attended the tour events were asked to take a pledge to create their own jobs by the end of 2009. Using social media, tour attendees, speakers and staff have been asking questions, posting updates on their businesses, and posting comments about the tour on Twitter in real time and have them shared on https://www.extremetour.org/ca.
California is one of six states that led the nation in entrepreneurial activity in 2008, according to the Kauffman Index of Entrepreneurial Activity. In an effort to capitalize on that trend, Economic and Workforce Development, Small Business Development Centers (SBDCs), Centers for International Trade and Development (CITDs), and community colleges are bringing California's top young entrepreneurs to 18 college campuses for the first time. The state's future business owners will learn the how-to's of business startup, where to get help, to consider community college, as well as the importance of completing their education.
An interactive Google map shows the Extreme Entrepreneurship Tour's fall route in California. Both emerging entrepreneurs and students from all disciplines attended attend tour events in their area to learn how they can apply the entrepreneurial mindset to their lives regardless of their choice of careers. Since the tour was created in 2006, it has presented 100 events in 30 states, reaching 100,000 students across the country.