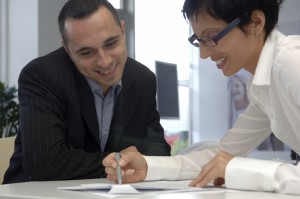 An effective business mentor can be crucial to ensuring that your business is maximally successful. He or she can help you avoid the mistakes that others have made, putting you a step ahead of your competitors. A business mentor can help you prioritize tasks, provide valuable feedback, and keep your business plans on the right track. That said, finding a business mentor to help you build your business can be challenging. For a leg up in this pursuit, here are five simple ways to find a great business mentor:
Look deeply within your own network. When you begin to think of all of the friends, family members, current business associates, and previous associates you've met over the years, there is likely someone you know who has been successful in business. You have the advantage of knowing these people on a personal level, and you can judge whether someone will be a good fit with you as a mentor.
Take your business and personal networks to the next level. If your direct network connections don't offer up any business mentor choices that you feel are appropriate, ask for your connections to recommend people they know who would make great mentors. If they personally used these people as mentors in the past, that's even better!




Approach business people you admire. Although Bill Gates may not be readily available as your business mentor, it wouldn't hurt to ask him! Of course, you may have more luck approaching local successful business people. These community leaders usually understand that, by helping others succeed in the community, they will also benefit. Give these entrepreneurs a call and ask them for a moment of their time. This way, you can explain a little bit about your business and what you'd hope to get out of a mentor relationship.
Try business organizations. A great way to locate a business mentor is through the various local organizations where business people gather. Organizations such as your local chamber of commerce, Rotary Club, or even Toastmasters can introduce you to the perfect person to mentor you and your business toward success.
Try online mentor-matching sites. There are several websites devoted specifically to matching business mentors with mentees. Some sites are free to use, such as Micromentor.org, while others require a paid membership. Most sites ask you to provide details about your business, as well as what you would like to get out of the mentoring relationship.
Through running a transcription services company, Randall Davidson has learned that getting a small business off the ground is anything but easy. He sought out a business mentor early in his company's growth and, with that support, his company has been able to expand its service offerings. AudioTranscription.Org now offers everything from interview transcription to market research transcription.