Comfort and efficiency
We've all seen pictures of the interesting, creative and playful office spaces of silicon valley companies, where employees can bring their pet to work, speed along the floor in a scooter – and in some cases even take a power nap. And while this kind of environment isn't going to be suitable for all types of business, there are still some effective things that can be done to optimise the office space for morale, motivation and productivity.
Nobody works to their optimum rate of efficiency if they're uncomfortable – it stands to reason. If you're too hot or too cold it can be difficult to concentrate and productivity is lost as a result. That is an obvious example, of course, but there are other less immediately conspicuous things that can have an effect on the way we work.
Office improvements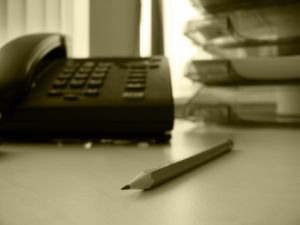 So, how do we move towards a workplace designed for maximum productivity? Here are some ways in which we can adjust the environment for added success:
The clear desk policy. This is now widely adopted among many organisations – and it helps on a few different levels. Clear desks help to give an atmosphere of concentration and professionalism. Also, any visiting clients will be impressed with how organised everything looks. Clear desk policies also encourage people to keep good organisational habits, as they automatically make sure everything is in its right place.
Air quality. If you can get fresh air into the office, all the better. A breath of fresh air can re-energise us and it's even believed to relieve some of the symptoms of depression.
Green the office. Studies have shown that plants – as well as producing oxygen – can actually make people concentrate better, and possibly even reduce sickness absence. And of course they add a visual element to the office, too.
Show the workplace in its best light. If you have ever worked in an under-lit office you'll know how it can make you strain your eyes, and dull your concentration. Natural lighting is of course the best, of course – but then it isn't light all day in winter, so it's worth investing in strong, non-harsh office lighting.
Water availability. Having a good provision of water coolers means that anyone who is looking to rehydrate won't have to go far to do so. And the water cooler is also a little social hub within the office, so it can help with employee communication and team building.
About the author: Jenni Jones is a health enthusiast and blogger who writes about workplace wellbeing, group health insurance and stress management for a number of websites.