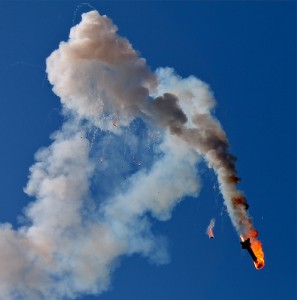 Social media can offer excellent publicity opportunities for the PR professional, but the nature of social media makes it a double-edged sword and a mistake on social media can quickly turn into a PR nightmare. Here's a list of some whopping PR errors on social media and how you can avoid making the same mistakes yourself.
Netflix
When Netflix decided to launch its seemingly smartly-named streaming film service Qwikster, it turned out they should have researched the Qwikster name a little more thoroughly. Users following @Qwikster on Twitter found the name was already taken by someone who tweeted about drugs and liked to swear.
Hmmm. Easily avoided – Google the effing name and check its availability before you launch.
McDonalds #McDStories
Because no one has ever said a negative thing about the universally-loved global fast-food outlet, McDonalds' PR must have been 100% certain that an open forum on Twitter for users to relay stories of visits to the burger giants stores would be filled with heart-warming tales of hearty meals. And they didn't see it coming?! You guessed it, users used the #McDStories to post negative comments about slimy burgers and slimier ethics.
How to avoid it? Think.
Chrysler
The car manufacturer found itself in a social media storm after someone tweeted an offensive comment on from its Twitter account, which read "I find it ironic that Detroit is known as the motorcity and yet no one here knows how to f**king drive." On investigation it transpired that the tweet had been posted by an employee of Chryslers' social media agency. The employee was fired and Chrysler was left to apologize for any offense caused.
Lesson learned – don't give third parties unrestricted access.
BP Public Relations
Following the Deepwater Horizon oil spill, BP found itself on the sharp end of social media. The fake Twitter account @BPGlobalPR was used to spread satirical and damaging tweets about BP, such as "Help us celebrate the second anniversary of the spill by entering our caption contest." The fake Twitter account enjoys almost four times the amount of followers than the genuine BP account.
How to avoid this – it comes with the territory.
Burger King
Another burger chain and another misguided use of social media for PR. Burger Kings mistake was called Whopper Sacrifice and involved a promotion offering a free Whopper to users who defriended ten of their friends on Facebook. Nice. Burger King would then notify the ditched friends they'd effectively been traded in for a burger. Notifying people of cancelled friendships broke Facebooks' privacy rules and the promotion was promptly closed down.
How to avoid this – make sure use of social media is both legal and in the spirit of connecting people. Dumping friends is hardly the way to get the best PR out of social media.
In the right hands, social media is a great tool for those with jobs in PR, but gaffes spread and become very costly. Most of the mistakes here would have been avoided with simply a little more thought and discussion beforehand.
Photo Credit: Rocket Firefall by jurvetson
Tom Walker is a Freelance Web Copywriter producing content PR Week.