Even though the government in China has banned the popular social networks that we all know of such as Facebook, Twitter and YouTube – these social networks can still be accessed via virtual private networks. However even if these popular social networks were not banned the Chinese social equivalents have a natural edge over it's nearest foreign competitors – here are 5 social media platforms in China that are worth noting.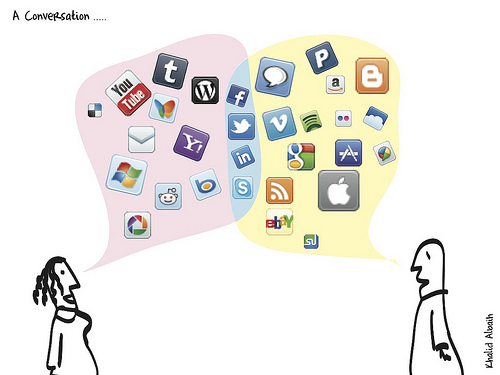 Image courtesy of Khalid Albaih from Flickr
1) Renren
Renren was initiated by Wang Xing and is the Chinese leading social network with many followers. The site started on a humble beginning by imitating Facebook but advanced to offer more functionality such as social games. It was previously named Xiaonei.com, meaning "on campus". Xiaonei move to change its name in 2009 to Renren in order to target a larger market and address the Chinese likes and tastes.
2) Kaixin001
Most of Kaixin001users belong to the white collar class. The social network also sounds more of female fans with major brands such as BMW, Estee Lauder having a lot of followers. A lot of its users tend to focus on international products and is good for multinational SEO promotions. The site is perfect for a business targeting middle class people and mostly those past college institutions with a flowing income. The estimated cost for putting a brand according littleredbook.cn is USD 15k/quarter as compared to Renren USD 92k/year
3) Sina Weibo
Sina Weibo seems like a Chinese fashion of Facebook. Most of the users using the site like it due to its flexibility. The site seems to understand Chinese taste and finding information of any interest is faster Sina Weibo. It is considered to be the most engaging and economical social site with an information hierarchy that a normal layman Chinese can follow.
4) 51.com
Web marketers can focus this social tool in China if they are targeting rural area population. Companies using this social site can market affordable products without discouraging low income earners. It is a popular site in lower tier cities. However, the site growth has slowed since it started. According to chinarank.org.uk, the site has about 160 million users and not recently has not been as active compared to Renren and Kaixin001.
5) Qzone
This site has gained a lot of popularity and is mostly used by teens and rural users. Its popularity has been attributed to cross-promotional traffic from QQ messenger a Tencent company offering messaging platform in China with a few million followers. The company had a 22% market share according to 3000 telephone interviews conducted by Network Information Centre in July 2009. It is a basic network for social marketing campaign and a reputable brand is likely to be shared by instant messaging in a faster way.
What Now?
Focusing on the laid budget, tastes, age group, population, income levels and popularity is supposed to be the main target for SEO marketers in social media tools. By generating enough traffic and sharing the relevant information, a brand reputation is likely to spread like bushfire if proper efforts and considerations are made. Make your choice today and join this giant market of China.
Author Bio | Written on behalf of a leading Chinese Digital Marketing Agency in London – qumin.co.uk. Specialists in Web Design, Online Marketing and Brand Presence in China.