How to Get Free Comics For Your WebSite From Comic Exchange & Free Technology Cartoons From Andertoons!
Free Comics! From Comic Exchange
Provide additional "reasons" for visitors to return Give your visitors more reasons to come back to see your site again. The cartoon below comes from another FREE cartoon provider which provides constantly changing funnies for your web site. Each time a surfer comes to your page they see a different cartoon! If you think that your web site visitors would enjoy a smile contact and get free funnies! Note that there is a small banner advertisement below the cartoon. Members of ComicExchange will display YOUR banner ad on other member sites and bring you traffic! This costs you nothing but the space on your page and provides your visitors with extra value while advertising your site for you!
Hit "Refresh" and See a New Cartoon!
Visitors are always interested in a good laugh and they get a new comic each time they visit the page. Try hitting your "Reload" or "Refresh" button on your browser and see another! This fun content can be one of the most popular features on your new website and will bring surfers back to see more! It increases your traffic two ways by bringing visitors from your ad in the banner exchange and bringing visitors back for more cartoons!

Get your Domain Name
Here are some Valuable Domain Name Pointers. 1) Easy to spell: If people can't spell your domain name easily, they could mis-spell it and end up at your competitor. 2) Easy to remember: so surfers can access your web site by typing in your domain name in their browser window. 3) Short and simple: The ideal domain name is short and simple. More extensive tips in our Domain Name tutorial! Check to see if YOUR Domain Name is available by typing it into the text box directly above(choose from .com, .net, .org, .info, biz and .us domains). There is no charge to check availability of domains, but if you decide to purchase your domain name now, our pricing starts at only $9.99 – The lowest price you'll find for single year registrations!
Here's one from comic Exchange we particularly love!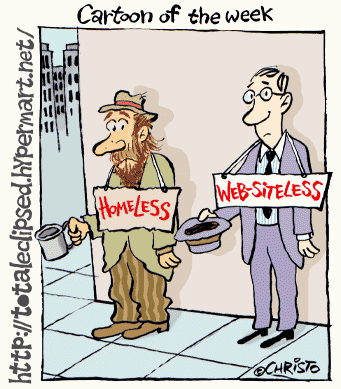 Used by permission of "Total Eclipsed"