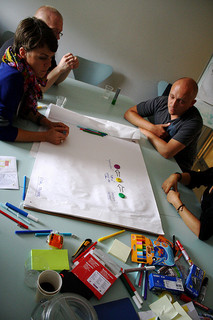 Convey a clear message:
Make sure the message on your website is clear. This is really web design 101 but it often over looked I find by people that have been in the game for a while. So when someone comes to your website, they need to understand what it is about within the first few seconds.
Another way of thinking about this is that it is an elevator pitch. Whether you're a small business owner or a web designer, you should always be able to describe what it is exactly that you do in one or two sentences. Once you have that message you should make sure that it is clear, concise and displayed prominently on your website.
The Human Element:
In marketing or in advertising this is referred to as the human element or the human factor. The idea is that you use a human being, someone with a face or a smile, looking right at the visitor to you page. This increases engagement with your visitors. The human factor goes a long way in getting people to identify with your brand so bear it in mind. Pets also work well too if used in the right context. Likewise, sex but you don't really want to use that too much because it's very cheesy in web design. Kids, dogs and sex always sell, which is way they tend to feature heavily on advertisements.
Simplicity Works:
The best websites are very simple. You don't really need all the bells and whistles to really make your website standout. A lot of the time when people are just starting out in web design, they're wondering about the latest techniques in jQuery or a jQuery slide show or how do I get this thing moving across my screen or how do I get this new CSS3 feature implemented. In my opinion new comers to web design should focus on KISS, which as we all should know mean (Keep It Simple Stupid). This is a common mistake of most new web developers and a little time and patience to learn the basics will pay off dividends later on.
So to recap the main points over;
Make sure your message is clear using the human element for your 'hero' image. Think hard if you're able to incorporate it into your design somehow as it is a proven technique. Lastly, keep it simple!
If you are interested in hiring a good web designer in London please see www.marmaladelondon.co.uk for more information and advice.
Image credit: Mads Boedker