If you're baffled by being outranked because you're convinced you have quality content, maybe it's time to put glasses on. Many site owners compare their content to those of their competitors or are convinced their site's design is superior. These same people are usually clueless about what constitutes quality content. Streamlined doesn't usually add up to quality content. Quality comes from offering everything a user could possibly want to find when typing in a search term. So, if you site is suffering from your delusions, it's time to open your mind to change and take a closer look at what constitutes quality in your niche.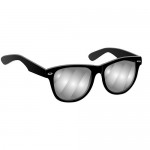 In some niches, having an original article isn't enough to cut it. I've been reading about sites losing their rankings; the site owners are crying they had original content. Is your definition of original content a 500 word article with no subheadings, no formatting, no photos, and lots of ads on the page? Ask yourself what are the best sites in your niche doing. If it's more than what you are, stop calling your content quality and start looking for ways to improve it.
Create Your List – Back to Square One
Humor me. Pretend for a moment you have no idea what people want when they are looking for your main keyword phrase. Do a search and visit the top ten websites in the results and make a list of all the different features they offer. What are you missing? Add that to your list.
Think about every possible option you could offer your visitors:
Information (text)
Photo(s)
Video
Audio
Interaction (commenting, forum)
Downloadable pdf
Tool
Website Types
Ecommerce: The biggest problem e-commerce sites have is using manufacturer's descriptions. You've heard it before and you don't want to spend the time or money writing thousands of original descriptions. So, just start with your most popular products. Reviews are a great way to add content and provide valuable feedback for visitors to determine if they want to buy the product. You can even use multiple photos of the same product (different angles of the same product or colors) and have them converted into videos. Amazon is very successful in offering up every possible type of content for its products.
How-To: You've seen plenty of them that don't show any photos. If your how-to could be better explained with a photo or video, why not add one?
Forums: Many forums have a thread for their users to post a wish list. That's where you might discover what's needed in your niche that the other forums aren't providing. Often, a forum's biggest problem is not cracking down on poor content posted by spammers.
Do A Survey
Why not create a survey and send it out to your email list? Or, you can create a poll directly on your website or Facebook page. The best way to find out what people want is simply to ask. Forums are also great places to ask for feedback.
If you give your visitors what they want, your site can truly become quality content. Filling in pages with empty words just to reach the 500 word count threshhold is not being perceptive to your niche.
Theresa Happe works with BuyDomains.com where you can find an available domain name to suit any niche and price range.