COPPA means Privacy for Children!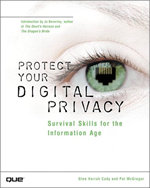 by Mike Banks Valentine


A major issue for small to medium sized business online is PRIVACY
if they collect information from visitors to their site. New laws are
being passed that require site operators to maintain the privacy of
surfers that provide personal information to site owners. A law
recently came into effect called the Children's Online Privacy
Protection Act (COPPA) that can lead to fines of $15,000 for
non-compliance PER VIOLATION. Sites that collect information from
children under 13 are required by the Federal Trade Commission (FTC)
to get "verifiable parental permission" before collecting ANY
information from kids.

The approach adopted recently by many online businesses doing the
CYA dance to avoid hefty fines imposed by the FTC for COPPA
compliance violations is to "lock-out" children under 13 from all
accounts.

Online privacy and safety for children is advanced significantly by
COPPA, but because there are few obvious solutions to the
protection of data collected online (witness DoubleClick debacle
recently) massive "free" services (like Hotmail) find themselves
facing fines for sharing information with third party advertisers
about children.

So far, the answer has been to "dump the kids" from those online
services that don't cater specifically to children. Those small
businesses that count on kids for major portions of their audience,
like game sites and homework services could quickly be put out of
business by the law.

If your online business gathers any information from children under
13 and you want to stay on top of the news, I'm sure you will find
this site a valuable resource. http://www.coppa.org

And it's not just children you should be concerned about. Privacy laws
are being considered for adults as well. The following is a quote from
today's Internet World News 5/15/2000

"The 40-member Advisory Committee on Online Access and Security
was directed to give advice to the Federal Trade Commission on how
Web sites should handle personal data collected about consumers.
The committee, which held four public meetings this year, released its
final report Monday. The FTC, which appointed the advisory panel, will
report to Congress this month on whether laws are needed to regulate
online privacy. At that time, the FTC will also present official findings
from its most recent survey of privacy policies at commercial Web
sites." --Kathleen Murphy

You can find out more about this issue by going to

http://www.coppa.org

and subscribing to their newsletter and review the site and the
news links provided. A solution to new privacy laws for small
business is discussed at the coppa.org site also.


-------------------------------------------------------- 
WebSite101 "Reading List" Weekly Netrepreneur Tip Sheet Ezine 
emphasizing small business online http://website101.com/arch/ 
e-tutorial online at: http://website101.com/shortcourse.html 
By week's end you're ready expand your business to the web! 
-------------------------------------------------------- 

                     
                    

Index to Privacy Resources at WebSite101