Protect Your Digital Privacy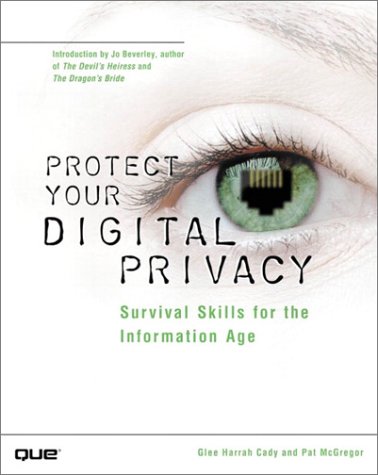 Protect Your Digital Privacy is a practical guide for the general Internet user -- someone who isn't a technical whiz nor a lawyer, and who'd like to know more about keeping his information private online and off. Readers will find both clear, everyday explanations of laws concerning how personal data is handled, and detailed guidelines to help set up computers and software to keep control of what they expose to other people.

The introduction by award-winning novelist Jo Beverley, helps readers who aren't certain if they need to care about privacy see how privacy concerns everyone.

Protect Your Digital Privacy ISBN 0-7897-2604-1 is available Amazon.com

Table of Contents
Introduction by RITA-award winning novelist, Jo Beverley.
I: SETTING THE STAGE: PRIVACY IN THE INFORMATION AGE.
1: Protecting Your Privacy in the 21st Century.
2: What Is Privacy in a Digital World?
II: BECOMING AWARE: PRIVACY AND THE INDIVIDUAL.
3: Who Wants to Know What about Whom?
4: Threats to Your Children's Privacy
5: Online Disclosures and that Barn Door.
6: Broadband: Always On, Always Connected, Always Exposed.
7: Privacy Over the Airwaves.
8: Do the Walls Have Ears? Other Devices that Can Affect Privacy.
III: TAKING CONTROL: PRIVACY SURVIVAL SKILLS.
9: Taking an Inventory of Your Personal Information.
10: The Least You Should Do to Guard Your Privacy When Online.
11: How to Secure Your Internet Transactions.
12: What Can I Do if My Privacy Is Compromised?
IV: JUDGING THE OUTCOME: PRIVACY AND LEGAL PROTECTIONS.
13: Privacy and the Law: 2001.
14: Canaries in the Coal Mine.
15: Self-Regulation and Privacy.
V: CHANGING PRACTICES: CAN PRIVACY WITHSTAND THE DIGITAL INVASION?
16: Internet Voting: Don't Try This at Home╔Yet.
17: Where Are We Going?
18: Can You Really Be Anonymous?
VI: APPENDIXES.
Appendix A: Glossary.
Appendix B: Expanded Privacy Check List.
Appendix C: List of Privacy Bills in the States in 2001.
Appendix D: Our Co-Conspirators.
Appendix E: Privacy-Related Web Sites.
Index.

---
Glee Harrah Cady has more than 20 years of technology and Internet experience as a respected author, educator, developer, technologist, executive, and policy advisor. She is consulting out of Palo Alto, California.
Pat McGregor has been working in networking since the mid 1980's, and has written extensively about help desk practices and ethical network management issues. She currently leads the development of the long-term Information Security and privacy strategies for Intel, working across the enterprise for the protection of Intel's intellectual assets, and also represents the company on initiatives working on critical infrastructure protection.
---
Copyright © 2002 - Glee Harrah Cady / Pat McGregor
All Rights Reserved